"I promise that we shall fulfil your expectations for the cleaning service and provide you service with quality, professionalism and responsibility.
Our management practices and teamwork have been implemented successfully in everyday fieldwork for more than 20 years. For us at H&A Siivouspalvelu, quality means that our customers get their cleaning services in the agreed manner and schedule, customised to their needs.
As the customer's operation changes, we adapt our service easily and flexibly. We tackle problem situations quickly and are available to our customers year-round and around the clock.
The key to our quality service is our committed, professional staff whose satisfaction is proved by surveys. Taking care of them is close to our heart and a cornerstone of our operation."
With pure professionalism,
Aila Kaakkurivaara
CEO
H&A Siivouspalvelu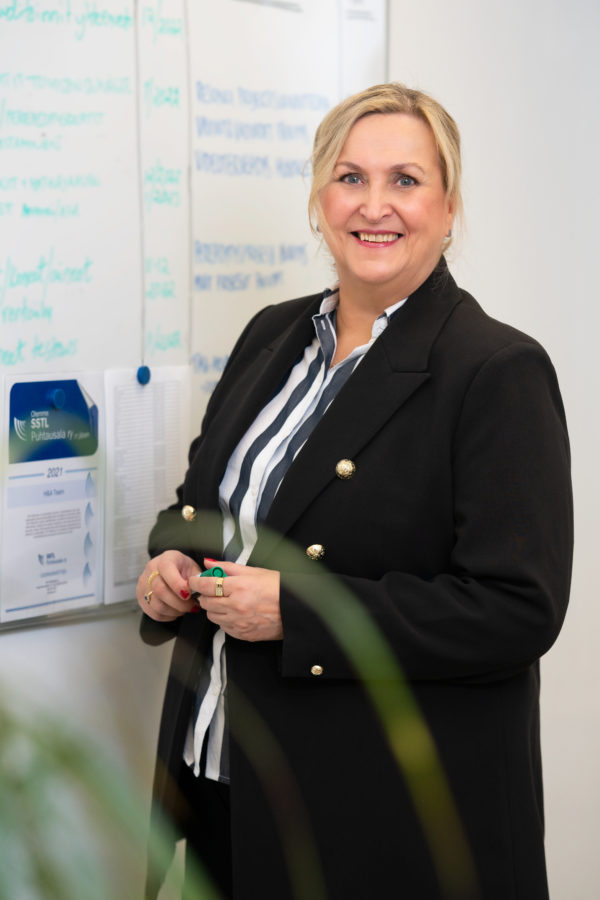 Our goal at H&A Team is that high quality can be seen and sensed in everything we do. To us, quality means, for example, that our staff feels well, our customers are satisfied and our operation is constantly developing. The quality of our work is supported by modern tools, machinery and cleaning methods. Our partners also share our idea of investing in quality in their own operations.
Our vision is to be the best-known cleaning service company in the Finnish capitol region for its responsibility and quality, and to increase the general appreciation of the cleaning industry with our example and operations.
We are committed to the principles of the Green Card system
Our quality system is audited annually, and the auditing is based on the Green Card system. Green Card is a concept that monitors supplier quality and creates common criteria for matters related to quality, the environment and occupational health and safety. We are committed to actively developing our operation with regard to quality and the Green Card criteria.
Regular contact supports the development of quality
Our cleaning service is designed to match the customer's needs and a jointly defined level of quality. We will draft a personal customer care plan for you that includes regular quality inspections and development meetings. We will do the quality inspections together with you and report to you on their results. The employees and supervisors at our sites also do quality self-control and carry out internal audits.
If we discover anything that needs to be resolved, we seek to tackle it as soon as possible. Customer complaints are often processed on the same day and never later than 48 hours after receiving the complaint.
We do annual customer satisfaction surveys for all our customers. Customer satisfaction surveys provide us important information about the satisfaction of our customers and help us develop our operation.
Environmental responsibility
The environment and looking after it is one of the most important factors guiding our operation. We want to do our part in lightening the environmental burden and actively develop our operation in a more environmentally-friendly direction.
The key parts of our environmental programme are steering acquisitions in a more environment-friendly direction, improving the efficiency of logistics and commuting as well as environmentally-friendly customer communication and raising the environmental awareness of our own staff. These matters are taken into account in our operation in the following ways, among others:
we utilise innovations and methods that save water and detergents
we use eco-marked detergents
we seek to find environment-friendly solutions for property maintenance and cleaning together with our customers
we consider environmental factors in our acquisition of cars and route planning
we regularly train our staff
we report on the environmental effects of our operation annually
of our detergents are environmental products
of our revenue amount to travel expenses

Our company was awarded the EcoCompass environmental certificate in April 2013. We are committed to developing our operation with consideration for environmental factors and operating in accordance with the EcoCompass criteria.
H&A Team's environmental policy
Caring for the environment is part of the daily work in our company. Our environmental principles are based on sustainable development and consideration for environmental impacts widely in all our work. The basis of our environmental programme is using new innovations in our work and constantly developing the methods already in use. In cooperation with our clients we try to find environmentally friendly solutions to matters related to cleaning and property maintenance.
In our work we use agents, tools, machines and methods that burden the environment as little as possible. We use methods and tools that save water, cleaning agents and the environment. We also consider the environment when it comes to travelling for work. We reduce the emissions from travelling for work by efficient route planning and monitoring our vehicles. We observe the environmental legislation in all our work. We train our staff regularly in order for them to be able to consider the environment in their work.